Pope Benedict XVI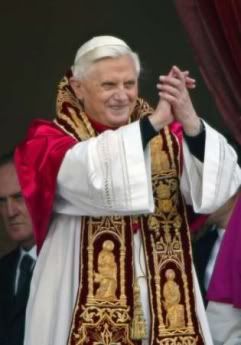 Joseph Cardinal Ratzinger, now Pope Benedict XVI
"The fact that the Lord knows how to work and to act even with inadequate instruments comforts me, and above all I entrust myself to your prayers."
With those words, the newly elected 265th Pope greeted the world from St. Peter's Basilica. Many people in the media predicted Cardinal Ratzinger's election. They failed, however, to foresee the kind, pastoral side of "God's Rottweiler." The Pope wasted no time setting forward his "program of governance." He told us that his plan is not to do his own will, but to listen to the will of God. In his inaugural Mass, he focused his homily on the two symbols of his ministry.
The pallium and the fisherman's ring are the "two liturgical symbols which represent the inauguration of the Petrine Ministry." The pallium is a mantle made out of wool. It can represent the sick and weak sheep being placed over the shoulder of the shepherd. The Holy Father, in light of his role as successor of St. Peter, saw his mission as following Christ's command to the first Pope: "Feed my sheep." He noted that a shepherd must love and take care of his sheep.
The fisherman's ring again represents his predecessor, St. Peter, and the Pope's Petrine Ministry. Christ told the apostles that they would become "fishers of men." The Church, in continuing this mission, works "to win men and women over to the Gospel." Not only do the non-believers need to be drawn in, but also those in the Church that have gone astray. The Holy Father will work to bring all Catholics, and all Christians too, into the fullness of the Faith.
He closed his homily by recounting Pope John Paul II's words when he was elected. "Do not be afraid! Open wide the doors for Christ!" We must all open our hearts to Christ. Only then will we find true life. To all that would say that this Pope lacks the pastoral care of his predecessor, this stirring message flatly denies this idea. I believe that His Holiness will be a true pastor, a shepherd for the Church. Make no mistake, he will not present a watered down message. Rather, he will lovingly preach the Truth that is Christ. His rod may come down on the dissenters, but his shoulders will carry those same lost sheep. Thank God for Pope Benedict XVI.